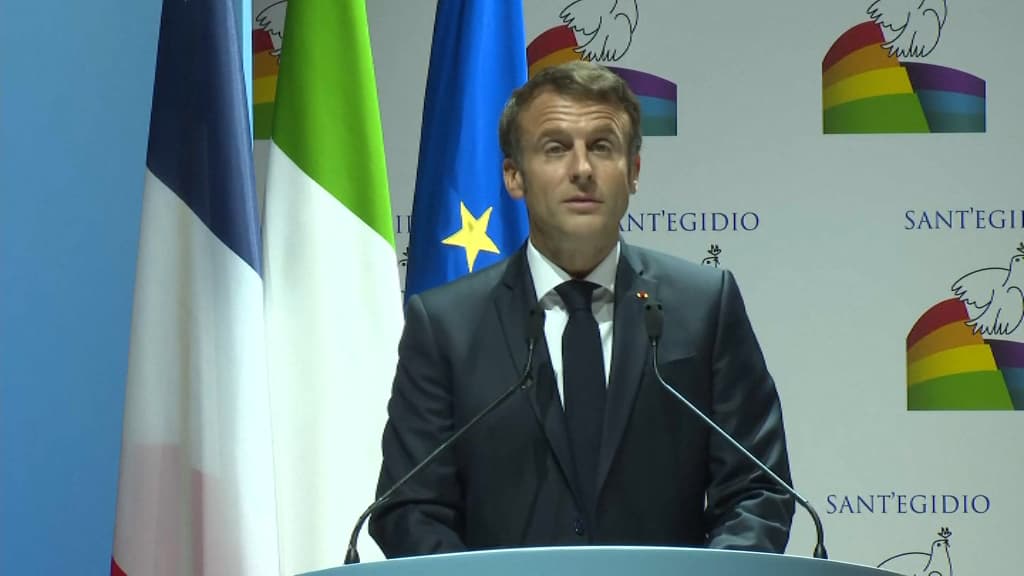 The French president will be among the many guests at an interfaith peace summit organized by Sant'Egidio in Rome this Sunday and Monday.
A peace in Ukraine is possible when Ukrainians "decide it," Emmanuel Macron announced this Sunday at the start of a peace summit in Rome.
"Today the peace should not somehow be seized by the Russian power, it is not their word, they do the opposite. Peace cannot be the consecration of strong (…) law, a peace is possible, only they (Ukrainians) will decide when," he said in Sant Egidio. He added during a speech at the beginning of this summit organized by the society.
Emmanuel Macron justified Western support for Kiev "so that at some point the Ukrainian people can choose peace", "on the terms they decide".
Talks were held with Putin
"Peace will be built around a table with the other who is today's enemy," he said, as hundreds of political and religious leaders from around the world gathered for a three-day summit organized by the Italian community of Sant. Egidio.
The French head of state arrived in Rome on Sunday afternoon, where he will be welcomed by Pope Francis on Monday morning for a private audience at the Vatican, the third between the two since the election of Emmanuel Macron in 2017.
Emmanuel Macron, unlike other Western leaders and notably US President Joe Biden, has assumed regular talks with Russian counterpart Vladimir Putin since the Ukrainian conflict began in February.
He again pleaded in Brussels on Friday for Kiev and Moscow to return "around the table" that would be "acceptable" to Ukrainian President Volodymyr Zelensky – but "as soon as possible".